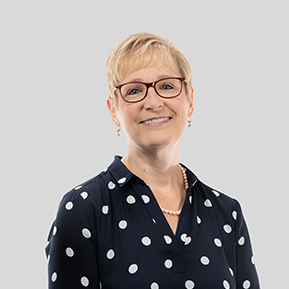 "Debby, co-owner of Denville Family Counseling, is highly professional, knowledgeable, caring and committed to serving her clients. I felt comfortable with Debby who offered solutions to assist me in exploring ways to improve my health through improved diet and nutrition. Debby was available but not overbearing or hovering. Her kindness and enthusiasm for her field and confidence elevates her brand."
~ Carrie
"My mother Jean and I cannot thank Debby enough for her insight and expertise. We very much appreciate the time she spent with us as well as explaining things and breaking everything down. Since the first consultation, my mother's issues have decreased substantially in just a short time. My mother is following the plan listed for her and her eating habits in general have improved since meeting Debby. We thank her for her help and professionalism."
~ C. Frank
Debby has been in the field of nutrition and dietetics for over 30 years.  In 2000, she co-founded Denville Family Counseling with her husband Eric. Debby has worked with numerous adult and adolescent clients, including those with cardiac disease, gastrointestinal disorders, diabetes, weight management concerns, eating disorders and substance abuse.  She has served her clients in numerous capacities including clinician, consultant, educator, and mentor.
Through her diverse roles, Debby has developed an approach to nutritional therapy that is informative and focused, while ensuring compassion and sensitivity.  She is committed to providing the best resources and information to her clients so that their food choices, lifestyle modifications and meal planning are simple, yet effective. Over the past few years, Debby has added OPTAVIA, a nationally recognized transformational system to her services. Debby also helps her clients by offering exercise guidance that will enhance their overall well-being as it relates to their disease management or sports performance.
Debby received both her degrees, Master of Science in Foods and Nutrition and Bachelor of Science in Dietetics from Marywood University. She completed post-graduate coursework in Sports and Wellness at St. Elizabeth University and earned her Certified Personal Trainer certificate through the National Council on Strength and Fitness.
Debby is a Registered Dietitian and an active member of the Academy of Nutrition and Dietetics. She also has served on St. Elizabeth's Dietetic Internship Selection Committee for the past 15 years and is a recipient of their Distinguished Service award.
Of personal interest, Debby and her husband are active members of their faith community as well as on-going volunteers for mission work in Guatemala. Debby enjoys reading novels and, appreciates art and music. She has completed two half marathons, is active in her gym and enjoys hiking.
You can learn more about Debby at www.denvillenutrition.com

"Debby, co-owner of Denville Family Counseling, is highly professional, knowledgeable, caring and committed to serving her clients. I felt comfortable with Debby who offered solutions to assist me in exploring ways to improve my health through improved diet and nutrition. Debby was available but not overbearing or hovering. Her kindness and enthusiasm for her field and confidence elevates her brand."
~ Carrie
"My mother Jean and I cannot thank Debby enough for her insight and expertise. We very much appreciate the time she spent with us as well as explaining things and breaking everything down. Since the first consultation, my mother's issues have decreased substantially in just a short time. My mother is following the plan listed for her and her eating habits in general have improved since meeting Debby. We thank her for her help and professionalism."
~ C. Frank
Nutritional Therapy
Medical Nutrition Therapy is an way to manage chronic diseases and it is delivered to clients by registered dietitians. Debby will help you navigate through the diagnosis, food and drug interactions, and lab results. She will educate you about specific nutrients and food choices to ensure the best outcome. Debby also will support you in creating an eating plan that best fits your food preferences and lifestyle.
In addition to education about your medical condition, Debby will assist you by developing and prioritizing goals for success. Some goals may include smarter grocery shopping, easy meal preparation and food tracking. Debby also is a certified personal trainer and will offer you exercise guidance as part of your treatment.
Debby is dedicated to offering her clients informative, straight-forward and comprehensive care so that necessary changes and adjustments for healthy living are achieved.

"I have struggled with my weight all of my life and often turn to food when bored, stressed, emotional, challenged, etc. Debby was the first nutritionist I have found who has helped me develop and modify a realistic plan to improve my health by incorporating choices and activities that I find satisfying. Debby is empathetic and listens instead of preaching, factors which enable me to be honest about where I am having difficulty. For me, the quest for good health and better weight control has been a journey with Debby supporting me and guiding me."
~ Kathi
"Being diagnosed with diabetes, I was totally devastated. I was told to see a nutritionist, so I contacted Debby. She made suggestions on dietary changes, types of foods and amounts, frequency of eating and exercise. As I made progress, she made changes in my plan. After one year, my blood tests are perfectly normal. I am on no medication and I am back to a much more normal life. Debby's guidance made all this possible."
~ Bob
Optavia
OPTAVIA helps people develop habits that can create lifelong transformation for their health and well-being as well as assisting them in reaching a healthy weight.
As a healthcare provider, Debby's goal for each client is to aid them in creating effective change and positively impacting their overall health. It is well-known that lifestyle change is the only thing that creates sustainable weight management and long-term wellness. Diets themselves have no lasting value, relapse rates are high, and the statistics are disappointing. The OPTAVIA Transformational System provides strategies, tactics, tools and support to eliminate barriers and it offers guidance to change the trajectory for success.
Each OPTAVIA client is supported by four main pillars. They include: Debby as your personal health coach, the use of the educational blueprint, scientifically-proven products and programs, and the support of an on-line community.

"I made a decision to start the OPTAVIA program in October 2019. After years of struggling with my weight and yo-yo dieting, I was ready to take control of my health once and for all. The results that I got using the OPTAVIA program amazed me. In a little over 5 months, I lost 70 pounds. Also, my blood pressure lowered and I'm no longer pre-diabetic and I sleep so much better. I highly recommend this program for those needing a tool to help them change their lifestyle. The Lifebook, the fuelings and your OPTAVIA coach set you up for success."
~ Renata
"Before seeing Debby, I found myself very embarrassed, uncomfortable, and overall unhappy in my own skin. I was super unmotivated and down on myself but did not know how to jump start my weight loss journey. Working out and exercise was not giving me the results I wanted anymore and I knew I had to make a major change. Debby helped me change my outlook and attitude in just a few short weeks! I began the OPTAVIA 5&1 plan and saw results immediately. Debby helped me gain back my confidence. I am very grateful to Debby and Denville Nutrition Center and would highly recommend her for all nutrition and weight loss needs!
~ Alexa
"OPTAVIA changed the way I looked at food and nourishing my body. It gave me the tools I needed to finally make my relationship with eating a balanced and enjoyable one!"
~ Bridget
"Debby has been excellent and so easy to work with during my transformation process. She checks in with me weekly, if not more and is very approachable and knowledgeable. I highly recommend her to anyone living in the area to access her as an experienced nutrition coach!"
~ Matthew
Insurance Panels
Medical Nutrition Therapy is a covered service by most major insurance companies. Debby is an "in-network" provider for many carriers. Medical Nutrition Therapy is a very specific benefit and coverage varies depending upon the specific policy. You are encouraged to inquire with your insurance company about benefits prior to scheduling a consultation. The major insurance companies for which Debby is a provider include:
Aetna
Including Aetna Medicare
AmeriHealth
Cigna Healthcare
Horizon Blue Cross & Blue Shield of NJ/ BCBS
Including NJ Health & Horizon Medicare
Oxford Health Plans
Including Oscar
Qualcare
United Healthcare
Nutritional Counseling is available on a fee-for-service basis when insurance does not apply.